Breakfalls in Wadoryu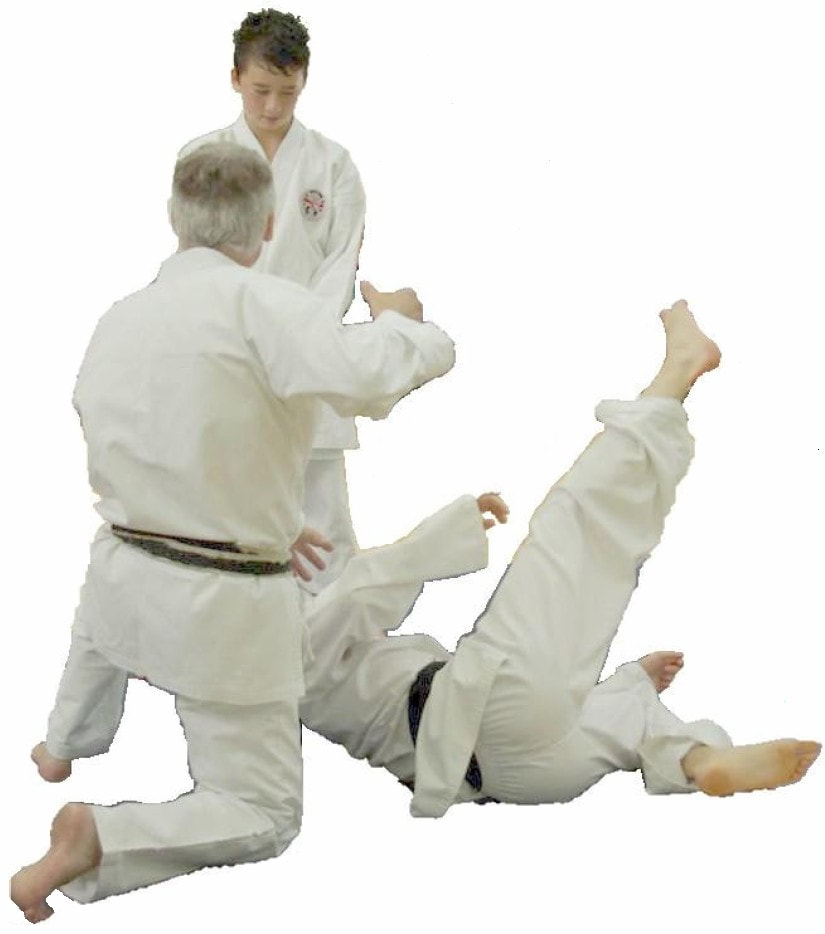 GE Swift Hanshi teaching 'take-down' technique within Ohyo Gumite Gohonme
Take-downs in Wadoryu
​Wadoryu does not have throws, but it does have takedowns, which in many cases are considered 'assisted take-downs'. However all take-downs in Wadoryu require a different form of 'break-fall', due to the landing on hard-surfaces (traditional Wadoryu does not train on mats); which differs from many of the other 'sport-type' mat-impact break-falls, as seen in Judo, MMA, etc.
For Example, when landing to the floor with Yoko-Ukemi, the opposing (break-fall) arm must be thrown downwards and slightly to the side (this forces the energy away from the head and also assists in a 'rolling' effect away from centre of the body.). At the same time the body must be slightly turned away with the hip raised; this is to protect the spine and reduce the hip from any harsh contact with the hard surface.
However, it is not advised to 'repetitively' practise break-falls on hard surfaces, as the student will risk injuring himself over time. So mats may be a start for those who require confidence-building exercises in the first place. Training of the correct falling procedures should be eventually practised on a wooden surface. Great care and caution should always be taken, initially, until we are used to the manoeuvre, in preparation for the harder surfaces.
​
There are three types of fall, commonly used in British Wadokai, these are:
Ushiro ukemi – Backward's fall (used in some Idori)
Yoko ukemi – Sideway's fall (this is the most common and also used in some Ohyo-gumite, Kihon-gumite, Idori, Tanto-dori and Muto-dori)
Mae ukemi – Frontward fall (used in some Idori and Muto-dori)
​Training in these break-falls will be given at various stages within the BWK Standardisation Courses, etc., relating to the requirements of the specific course.

Gary E Swift 9th Dan Hanshi